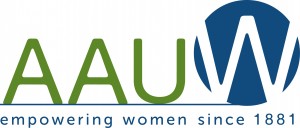 FOR IMMEDIATE RELEASE
6/11/2014
Media Contacts:
Katie Broendel, broendelk@aauw.org
202.785.7761
Rhonda Gaede, gaeder@uah.edu
256.830.8033
Area Girls to Build Mobile Apps at Alabama Tech Trek
Effort by Local AAUW Members Gets Boost at White House Science Fair
Huntsville, AL— A pilot program offered here and in just two other places in the nation will give middle school girls the opportunity to build a mobile app through a course designed by MIT. As part of Tech Trek camps run by the American Association of University Women (AAUW), the App Inventor curriculum will be offered in July at the University of California, Santa Barbara; Southwestern Oklahoma State University; and the University of Alabama in Huntsville, thanks to an $84,000 grant from Verizon.
Each summer, AAUW hosts these weeklong science and math camps for middle school girls. The three camps that will pilot the App Inventor course were announced at the White House Science Fair in May. This year's fair focused on women and girls as part of President Barack Obama's ongoing commitment to get underrepresented groups excited about STEM.
The campers, who will enter eighth grade this fall, will learn app design, basic programming skills, and the App Inventor tool. MIT will train Tech Trek instructors to teach the course and provide assistance during the camps to ensure flawless implementation.
Tech Trek got its start 15 years ago when AAUW of California member Marie Wolbach applied for an AAUW Community Action Grant to open a science camp for girls on the Stanford University campus. The program grew to multiple sites in California, and in 2012, AAUW expanded the program's reach to six additional states.
Tech Trek at the University of Alabama in Huntsville will take place July 20-25, 2014.
###
The American Association of University Women (AAUW) empowers women and girls through advocacy, education, philanthropy, and research. Our nonpartisan, nonprofit organization has more than 170,000 members and supporters across the United States, as well as 1,000 local branches and more than 800 college and university partners. Since AAUW's founding in 1881, our members have examined and taken positions on the fundamental issues of the day — educational, social, economic, and political. Learn more and join us at www.aauw.org.